The end of the year is invariably a time of reflection, and we often use this time to consider ways we can improve our lives and our relationships with others. But how often do you make resolutions that can have an immediate impact on the standard of care you provide for your patients? How often do you make resolutions that can help set your practice apart and grow your business?
Scheduling only 1-day root canal treatments and treating complex cases have always been a challenge. The GentleWave™ System will not only meet these challenges, but it will exceed them.
— Won-Jun Shon, DDS, MS, PhD
As endodontists, it is our responsibility to continuously question what constitutes an acceptable standard of care. For too long, that has meant root canal therapies that leave as much as 30%-40% of bacteria entombed in the canal.1,2 Left alone, that bacteria is only going to multiply. And for too long, we have allowed ourselves to accept reinfection and retreatment that results as an adequate outcome. During this time of annual contemplation, we have to ask ourselves, Can we do better?
At Sonendo®, we believe the answer is yes. Sonendo has been challenging the current standard of endodontic care for nearly 9 years. By remaining committed to the principle of Sound Science®, we have developed visionary capabilities that will enable your practice to elevate your clinical efficacy. We call it Multisonic Ultracleaning™ technology, and it represents an exponential leap in the quality of care we are able to provide.
Multisonic Ultracleaning™ technology works by delivering a broad spectrum of acoustic energy and creating a powerful vortex of treatment solutions that clean the entire root canal system from crown to apex. It is measurably superior to conventional therapies, relying far less on NiTi files and standard irrigation techniques and still removing more pulpal tissue and debris.3 In addition, Multisonic Ultracleaning™ technology can dissolve organic tissue 8 times faster than conventional endodontic systems.4
In addition to detaching and dissolving debris and tissue, the advanced fluid dynamics and chemistry that are essential to Multisonic Ultracleaning™ give you the power to thoroughly disinfect even complex anatomies, including the microscopic tubules where bacteria can accumulate and spread. Smear layer is effectively removed, as well as the biofilm that can form in the root canal system within weeks of the initial conventional treatment — and which can lead to reinfection.5 Multisonic Ultracleaning™ is statistically more effective than conventional techniques, even in the apical third and areas of anatomical complexities within the root canal system.5
Multisonic Ultracleaning™ technology is only available with Sonendo's GentleWave™ System, and since its introduction, endodontists everywhere have been impressed. And who better to speak to the transformative power of the GentleWave™ System than an endodontist who has personally experienced the procedure?
Won-Jun Shon, DDS, MS, PhD — a professor at Seoul National University School of Dentistry (SNU) in Seoul, Korea, and a visiting professor at UCLA — recently underwent a GentleWave™ root canal procedure and was very excited about what he referred to as a "breakthrough treatment by Sonendo®." The endodontist who performed the treatment, Dr. Randy Garland, has been providing GentleWave™ therapies for a year, and his enthusiasm for the technology is rooted in the improved results he has seen in that time. According to Dr. Garland, "I am at a point where I wouldn't feel comfortable performing a root canal procedure without my GentleWave™ System. Now that I have seen what root canal clean can look like, I personally feel I would be doing my patients a disservice leaving the amount of tissue, debris, biofilm, and bacteria behind that conventional endodontics allow. Making this improvement in my endodontic office has elevated our standard of care, the energy level of my staff, and our patients' experience."
As for Dr. Shon's experience with the GentleWave™ treatment, he described the treatment as very comfortable and virtually pain-free. "I did not feel any postoperative pain," Dr. Shon said, "even though my tooth was a case of symptomatic irreversible pulpitis." In addition, he praised the GentleWave™ System for its potential ability to provide increased revenues for practices. Because the GentleWave™ System enables endodontists to provide cleaning, disinfection, and obturation in one session rather than two, it enables practices to take on new billable patients, including the referrals that are becoming increasingly challenging in this industry.

"As a current endodontist," Dr. Shon said, "successfully scheduling only 1-day root canal treatments and treating complex cases have always been a challenge. The GentleWave™ System will not only meet these challenges, but it will exceed them. You will deliver unprecedented levels of cleaning with Sonendo's Multisonic Ultracleaning™ technology. This is the efficacy we have been seeking in our field and the care you want to provide for your patients."
Challenging the status quo in our industry may seem like an overwhelming task. The standard of care for endodontics has only grown incrementally over the last several decades. But the arrival of the GentleWave™ System and its Multisonic Ultracleaning™ technology means that there is an entirely new way of thinking about root canal therapies underway right now — an endodontic revolution that should be your 2016 resolution.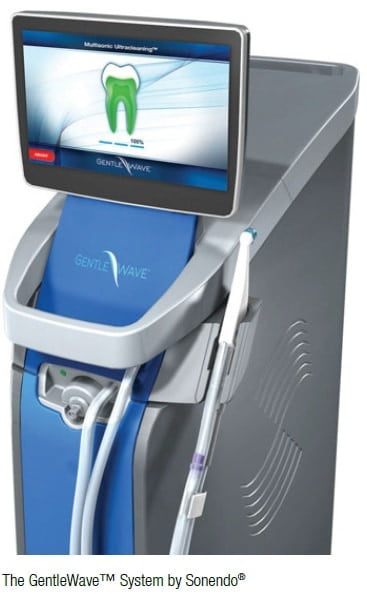 Sonendo has grown from a concept in 2006 to its selective commercial release today. The device is FDA-cleared. For more information, visit www.sonendo.com or info@sonendo.com.
This information was provided by Sonendo®.
References
Siqueira JF Jr, Machado AG, Silveira RM, Lopes HP, de Uzeda M. Evaluation of the effectiveness of sodium hypochlorite used with three irrigation methods in the elimination of Enterococcus faecalis from the root canal, in vitro. Int Endod J. 1997; 30(4):279-282.
Sjögren U, Figdor D, Persson S, Sundqvist G. Influence of infection at the time of root filling on the outcome of endodontic treatment of teeth with apical periodontitis. Int Endod J. 1997;30(5):297-306.
Molina B, Glickman G, Vandrangi P, Khakpour M. Evaluation of root canal debridement of human molars using the GentleWave System. J Endod. 2015;41(10):1701-1705.
Haapasalo M, Wang Z, Shen Y, Curtis A, Patel P, Khakpour M. J Endod. 2014;40(8):1178-1181.
Vandrangi P, Basrani B. Multisonic ultracleaning in molars with the GentleWave System. Oral Health. May 2015;105(5):72-86.
]