New York Endodontist Chosen President-Elect of the American Dental Association  
Dr. Chad P. Gehani, D.D.S., to assume ADA presidency in 2019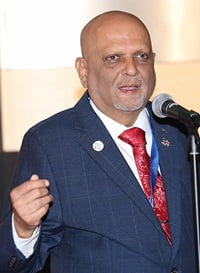 CHICAGO, Oct. 22, 2018 – Dr. Chad P. Gehani, D.D.S., an endodontist from Queens, New York, is the new president-elect of the American Dental Association (ADA). Dr. Gehani was recently elected during a meeting of the ADA House of Delegates in Honolulu. He will assume the role of president of the ADA in September 2019, when he will lead the 161,000-member organization that is America's leading advocate for oral health.
Since 2014, Dr. Gehani has served as the Second District trustee to the ADA Board of Trustees, and was a delegate in the House of Delegates from 2000-2014. Dr. Gehani was previously the president of the New York State Dental Association and the Queens County Dental Society.
Over the course of his career, Dr. Gehani has earned a number of fellowships from prominent organizations, including the International College of Dentists, American College of Dentists and the Pierre Fauchard Academy. In addition to the ADA, Dr. Gehani is a member of the American Association of Endodontists and the Indian Dental Association (USA).
Dr. Gehani has received several awards, including the Ellis Island Medal of Honor, which recognizes Americans who dedicate their lives to community service, from the Ellis Island Honor Society, and the Distinguished Service Award from the Pierre Fauchard Academy, New York Section, in 2008.  Dr. Gehani graduated from the University of Mumbai (India) and from the Columbia University College of Dental Medicine. He practices in Queens, New York, where he lives with his wife Rekha, who is also a dentist. Two of their three children are dentists and the other is a physician.
About the American Dental Association
The not-for-profit ADA is the nation's largest dental association, representing more than 161,000 dentist members. The premier source of oral health information, the ADA has advocated for the public's health and promoted the art and science of dentistry since 1859. The ADA's state-of-the-art research facilities develop and test dental products and materials that have advanced the practice of dentistry and made the patient experience more positive. The ADA Seal of Acceptance long has been a valuable and respected guide to consumer dental care products. The monthly The Journal of the American Dental Association (JADA) is the ADA's flagship publication and the best-read scientific journal in dentistry. For more information about the ADA, visit ada.org. For more information on oral health, including prevention, care and treatment of dental disease, visit the ADA's consumer website MouthHealthy.org.  
Contact:
Mike Bittner
bittnerm@ada.org
312.440.2598
Editor's Note: Photo is available upon request. Reporters are invited to follow the ADA on Twitter@AmerDentalAssn